Maryland and DC need strong, ethical leaders who will fight for equality and justice, and work for the people of our region. And with our crowded elections, it's hard to sift through the candidates and know who these people are, what they stand for, and whether they will actually follow through on their campaign promises.
That's why we started the JUFJ Campaign Fund: to help you decide whom to vote for, and to make it clear to candidates that we expect them to fight for us.
Mazel Tov to all of our 2022 endorsed primary candidates!
We are proud to have supported an amazing slate of candidates in Montgomery County's primary elections in 2022. Whether they won or lost, we know that all of them are going on to do amazing work for justice in Montgomery County.
As Jews, we know that every vote is sacred, just as every person is sacred. Every single one of us is entitled to a say in our democracy. We are so proud to be part of a powerful local progressive movement in DC and Maryland.
Maryland and DC need strong, ethical leaders who will fight for equality and justice, and work for the people of our region. And with our crowded elections, it's hard to sift through the candidates and know who these people are, what they stand for, and whether they will actually follow through on their campaign promises.
That's why we started the JUFJ Campaign Fund: to help you decide whom to vote for, and to make it clear to candidates that we expect them to fight for us.
Our 2022 primary election campaign is underway! Do you want to get involved in the campaign, learn more about Montgomery County elections, or purchase a t-shirt? Click below!
Most of our endorsed candidates are using public financing, which means they can only accept donations up to $250. Each of those dollars goes a long way, since for Council races they are matched up to 4:1 by County funds! We encourage you to click on the names of the candidates below and follow the links to their websites to learn more and to support their campaigns.
And keep scrolling all the way down to see upcoming Montgomery County Campaign Fund events!
The JUFJ Campaign Fund is proud to endorse:

Evan Glass for At-Large
Since his 2018 election to the County Council, At-Large member Evan Glass has won the passage of the Montgomery County Pay Equity Act, the Housing Justice Act, and the LGBTQ+ Bill of Rights. As a member of the Health & Human Services Committee, he championed funding for mental health services in schools and emergency rent stabilization measures to keep people in their homes during the COVID pandemic. He was a leader in the 2020 campaign to increase representation by adding two district seats to the County Council.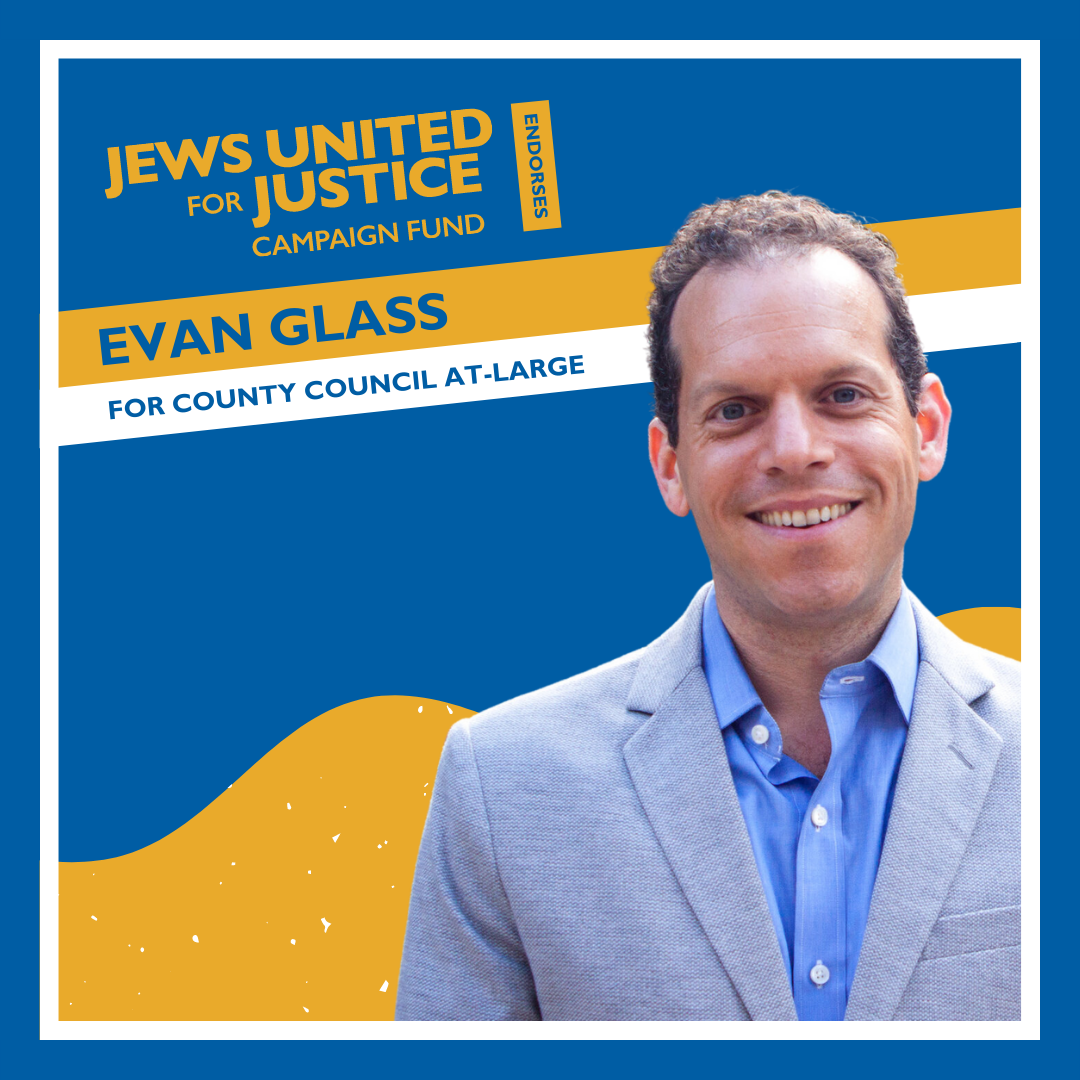 Will Jawando for At-Large
Will Jawando's impressive record on the Montgomery County Council shows his deep alignment with JUFJ Campaign Fund's values and priorities, including racial and economic equity, transforming public safety, affordable housing, rental assistance, and non-police alternatives to keeping students safe. Shortly after being elected to the County Council in 2018, Councilmember Jawando passed the first piece of police reform legislation in decades, and since then he has worked tirelessly to champion solutions that address systemic inequity.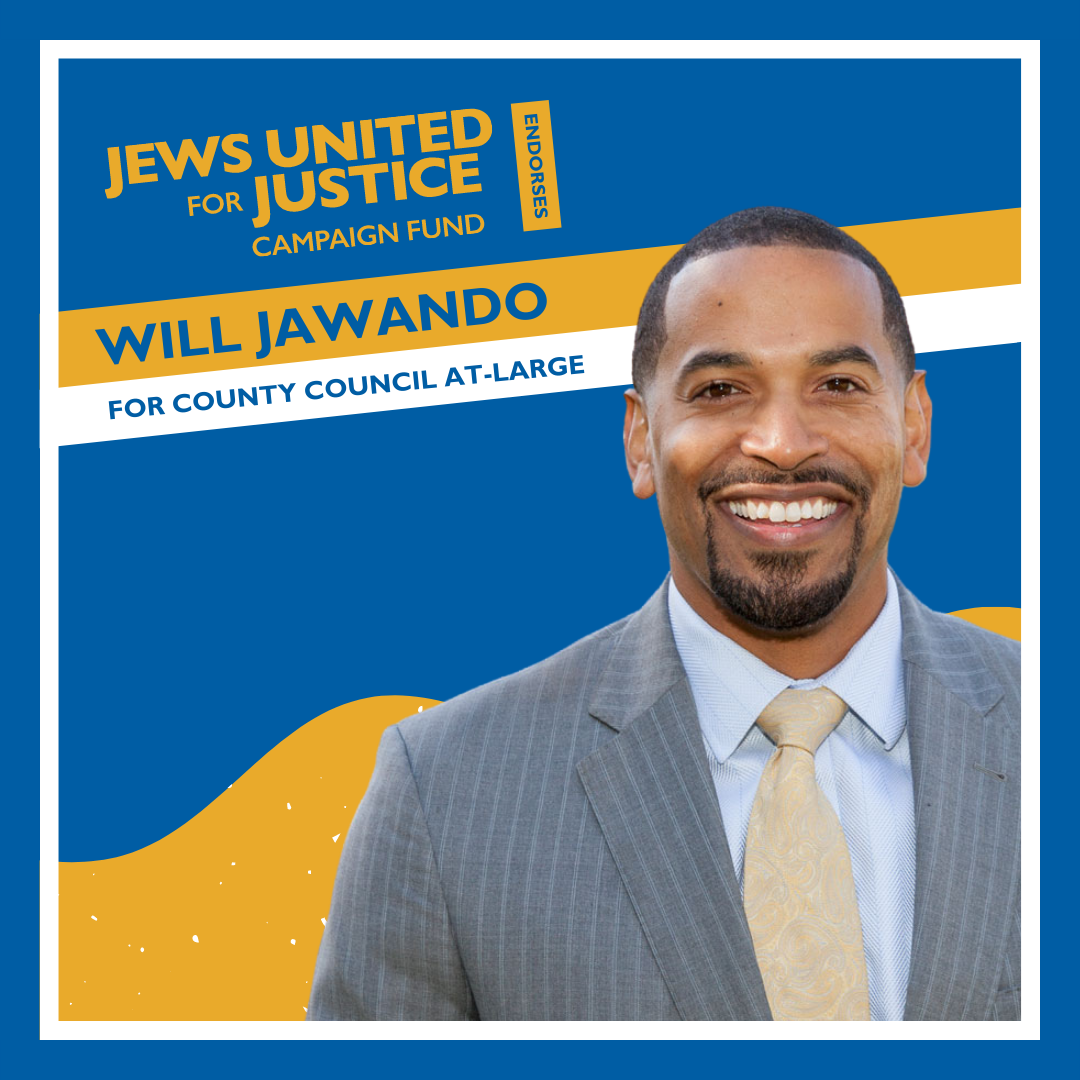 Laurie-Anne Sayles for At-Large
Gaithersburg City Councilmember Laurie-Anne Sayles is an experienced leader, change agent, and policymaker. She has fought for a $15 minimum wage, immigration reform, keeping renters in their homes, and holding police accountable. She has a steadfast commitment to helping those who are underserved and underrepresented, and she has developed a robust policy platform for a just and equitable recovery from the COVID pandemic.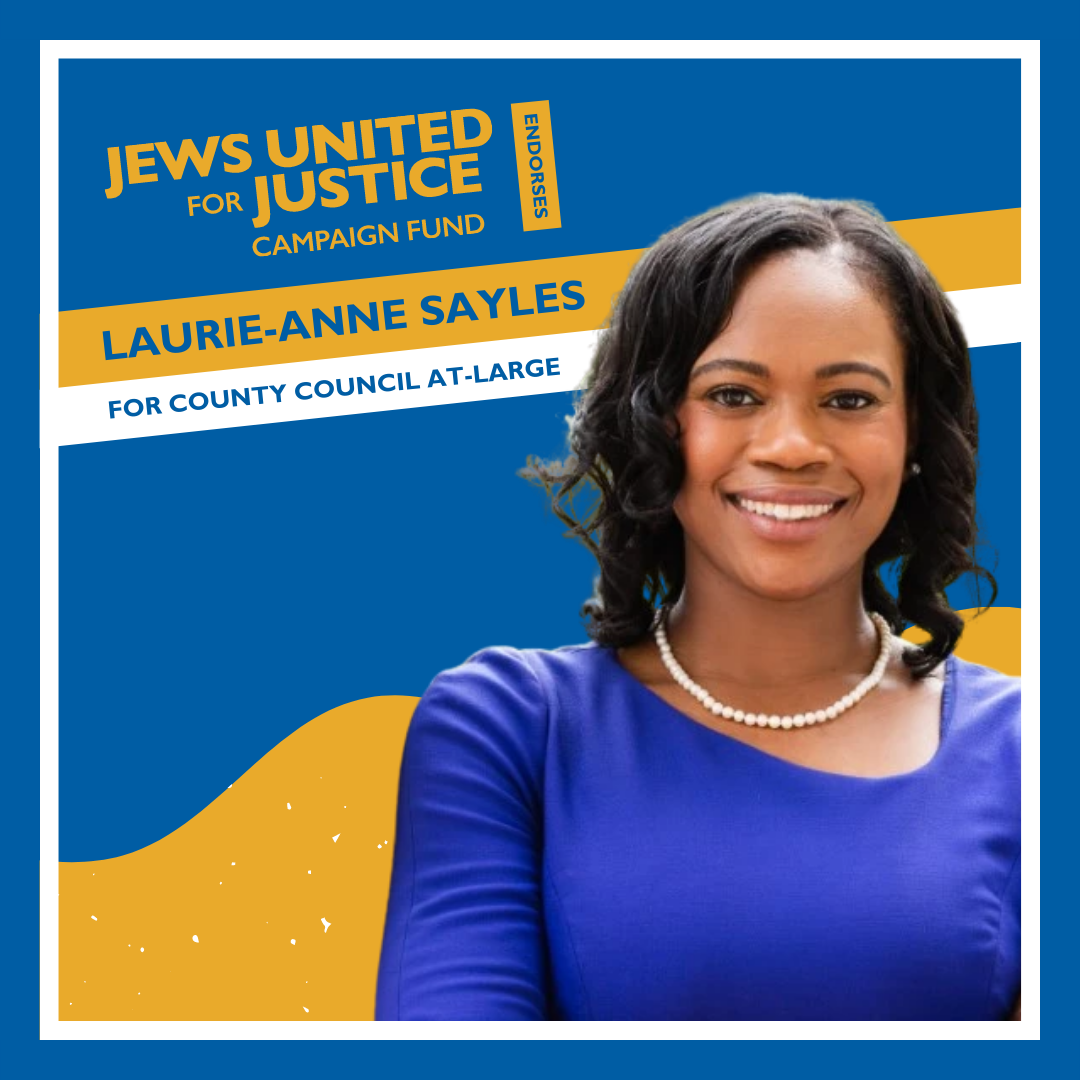 William Roberts for District 2
William Roberts is a civic, political, and non-profit leader and an outspoken voice on many key JUFJ Campaign Fund issues, including co-chairing the 2020 ballot measure campaign that defeated Robin Ficker's budget austerity effort. As Board Chair of Montgomery County Renters Alliance and as a civil rights attorney, he turns his passion for housing justice into action for renters. His experience with equitable policy-making at the local, state, and federal level will benefit Upcounty residents, as well as the entire County.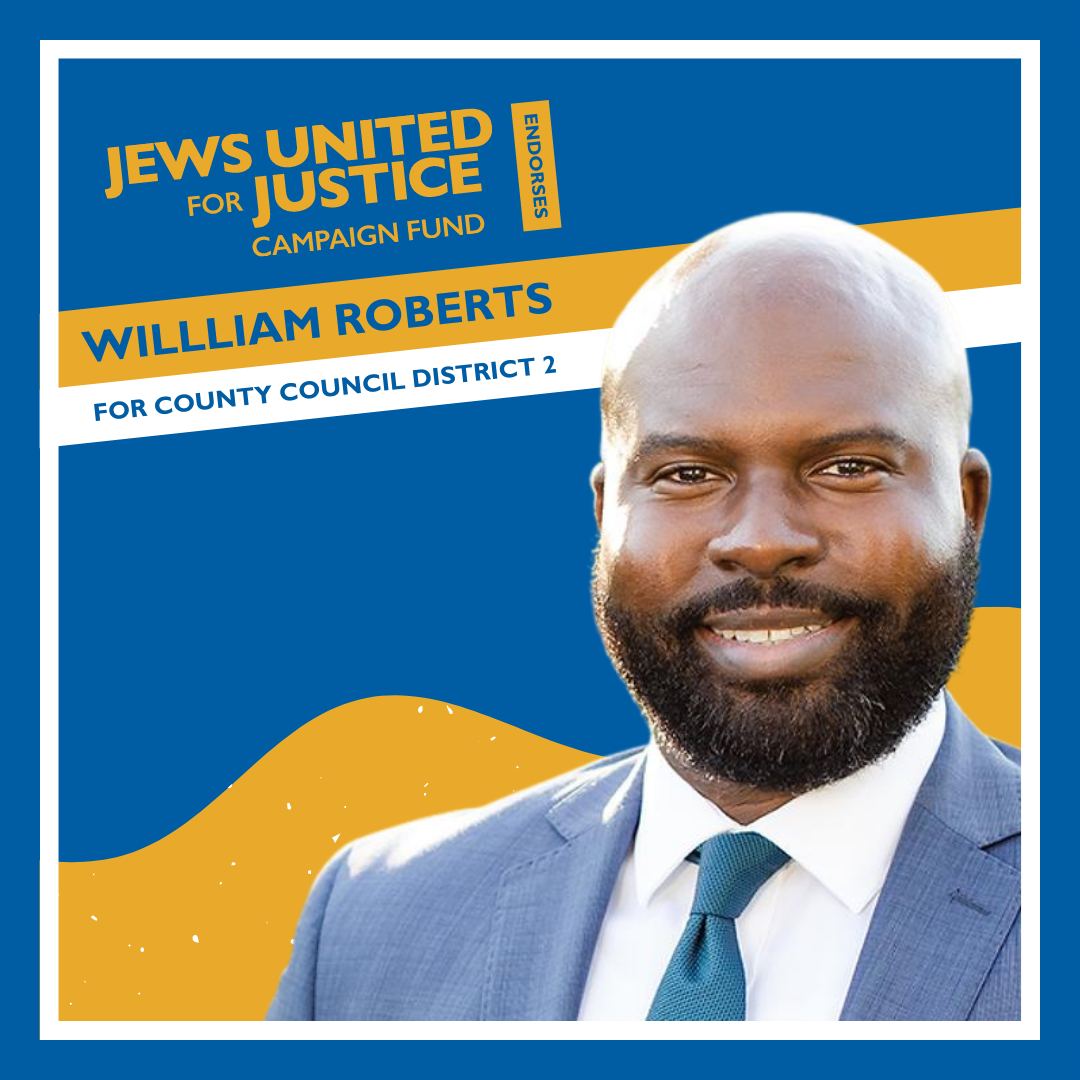 Kate Stewart for District 4
Takoma Park Mayor Kate Stewart will bring to the County Council an impressive combination of policy knowledge and determined advocacy for a more racially and economically equitable Montgomery County. Her record as Mayor shows her close alignment with JUFJ Campaign Fund's justice agenda, including using a racial equity framework to assess government decisions, a commitment to reimagining public safety, and engaging the community in decision making.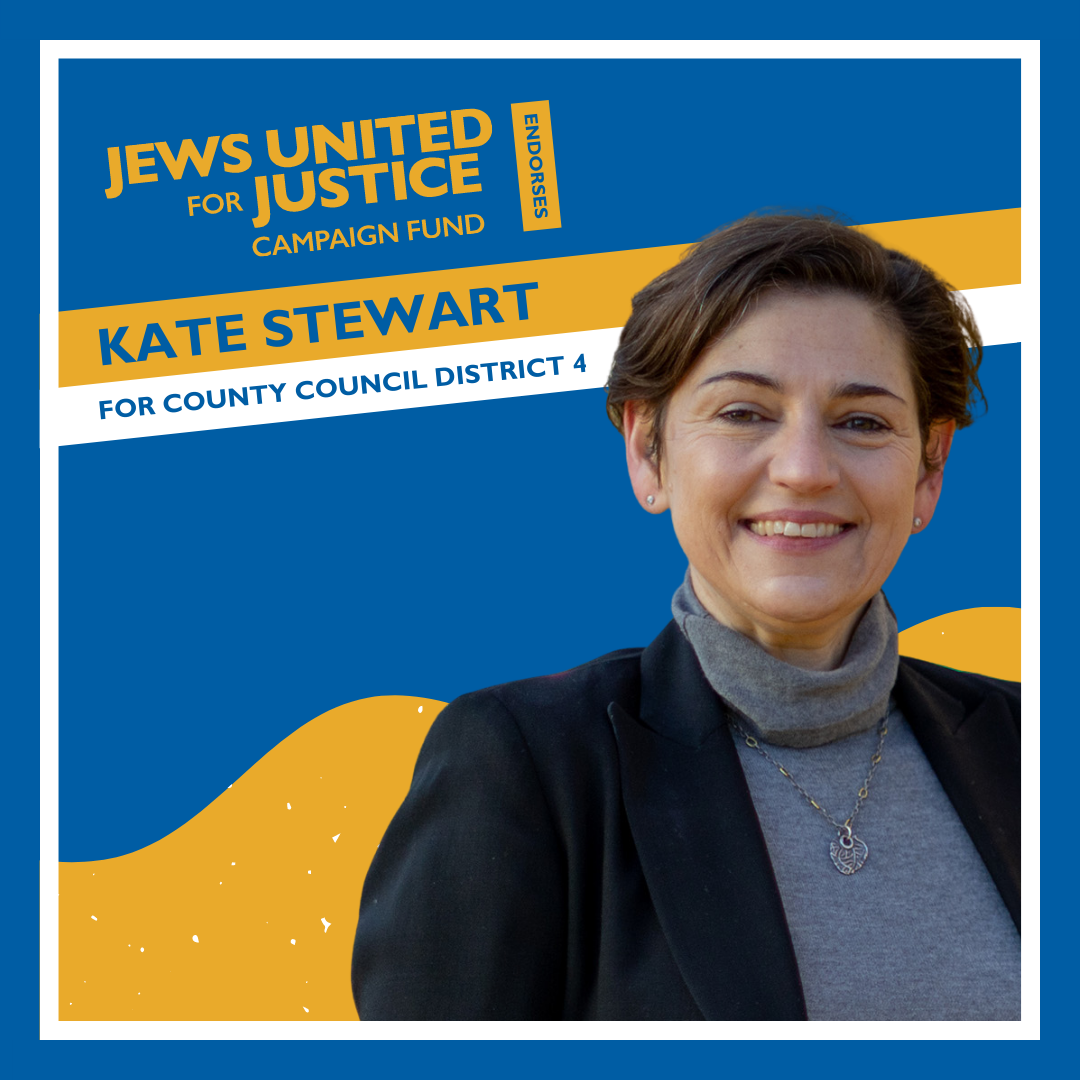 Fatmata Barrie for District 5
Fatmata Barrie is an experienced lawyer, policy-maker, and former Council legislative aide, who has been a consistent advocate for the issues that matter to the JUFJ Campaign Fund, especially the fight to transform public safety. Her lived experience as an immigrant and as a witness to police violence informs her deep commitment to equity, inclusion, and a government that listens to constituents who have been prevented from having a voice in decision making.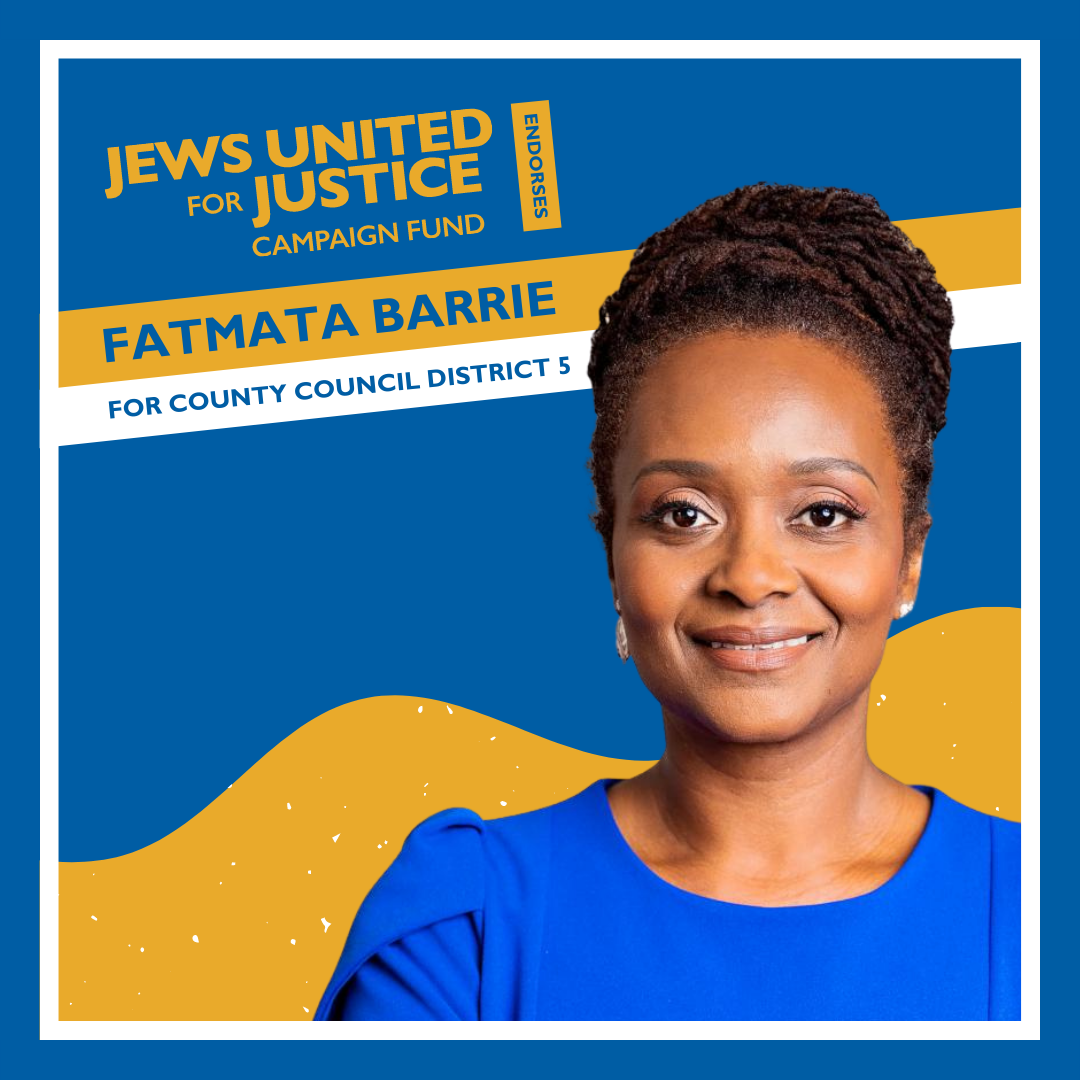 Natali Fani-González for District 6
Natali Fani-González is a proven leader who will bring a wide range of experience and expertise to the County Council, including her time serving on the Planning Board. She has a strong record on equity issues, including affordable housing and immigrant justice. Her alignment with the values and priorities of the JUFJ Campaign Fund are demonstrated in her work as a senior staff member at our frequent partner CASA, as well as her work as a consultant on the DC Paid Family Leave Campaign housed at JUFJ.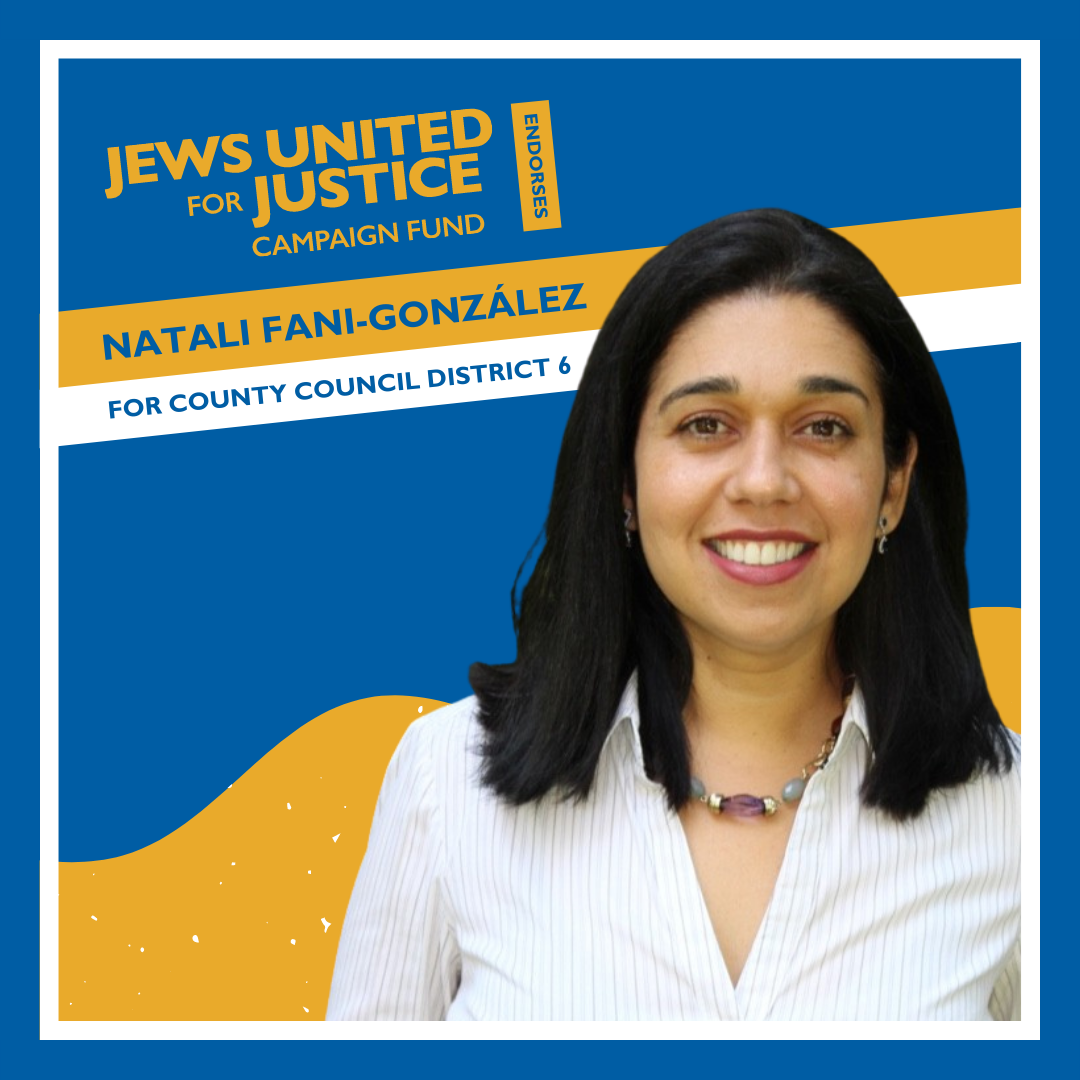 Perry Paylor for State's Attorney
Perry Paylor is committed to serve as State's Attorney in the model of progressive prosecutors around the country, including creating transparency and accountability, charging children as children and not adults, and implementing restorative justice approaches. As a Montgomery County native who is currently Deputy State's Attorney in Prince George's County, he has the breadth of executive experience and the deep community connections needed to address the racial inequities embedded in Montgomery County's criminal legal system, which is in urgent need of transformational change.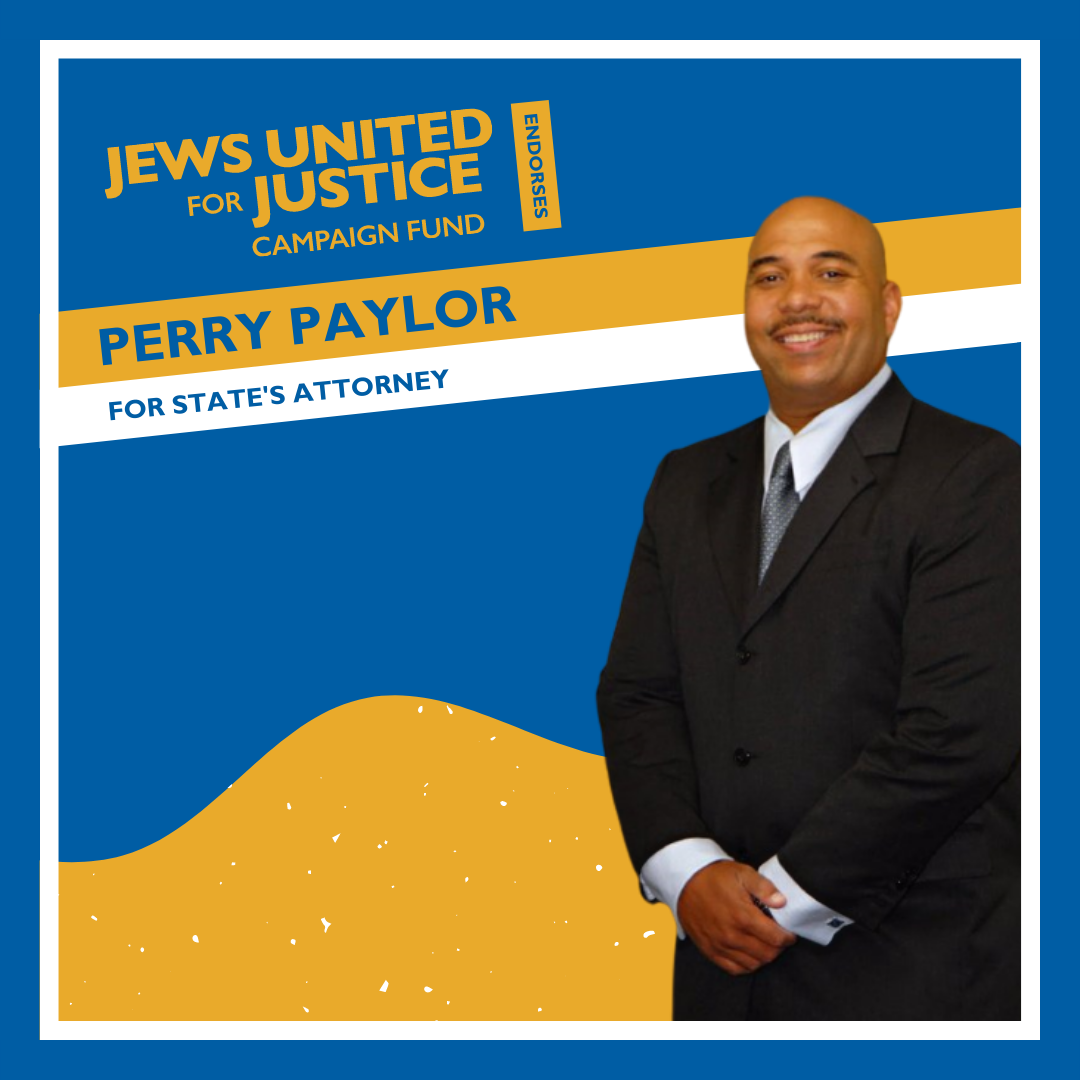 The JUFJ Campaign Fund had also endorsed Brandy Brooks in the Montgomery County Council At-Large race. In April there were reports, including in the Washington Post, that the candidate harassed a campaign staff member. After a deliberative process, which included speaking to Brooks, the aggrieved staff member, other members of her staff, several of her closest advisors, and our coalition partners, the JUFJ Campaign Fund has withdrawn its endorsement of Brooks. If you have questions about our process or our decision, please contact Laura at laura@jufjcampaignfund.org.
Mazel Tov, Montgomery County Executive Marc Elrich!
Thanks to everyone who ran for office, canvassed, phonebanked, or voted! Now that the 2018 election is over, we need to hold our elected officials accountable.
To be part of Jews United For Justice's ongoing campaigns for racial, social, and economic justice in Maryland, visit jufj.org/md.
JUFJ Campaign Fund is proud to endorse: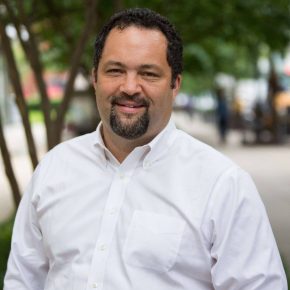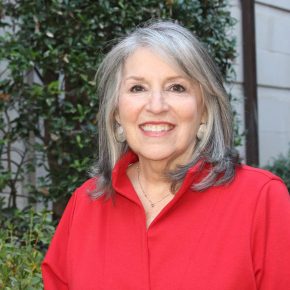 Susie Turnbull
for Lieutenant Governor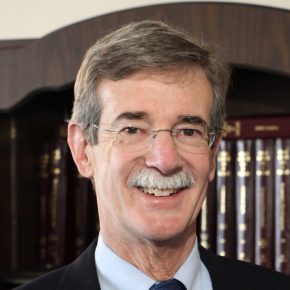 Brian Frosh
for Attorney General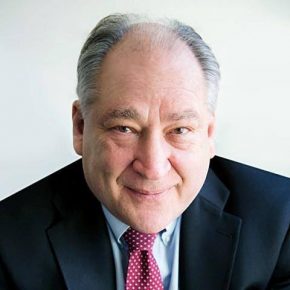 Marc Elrich
for County Executive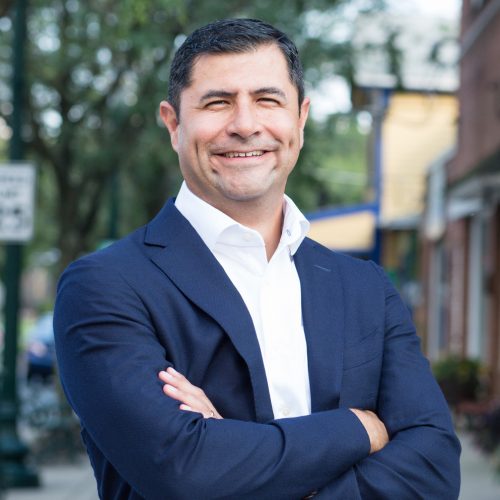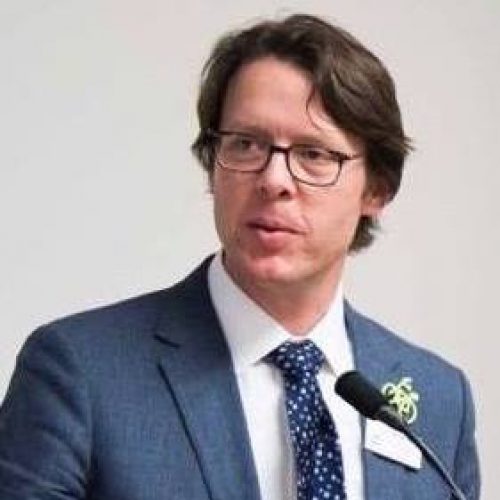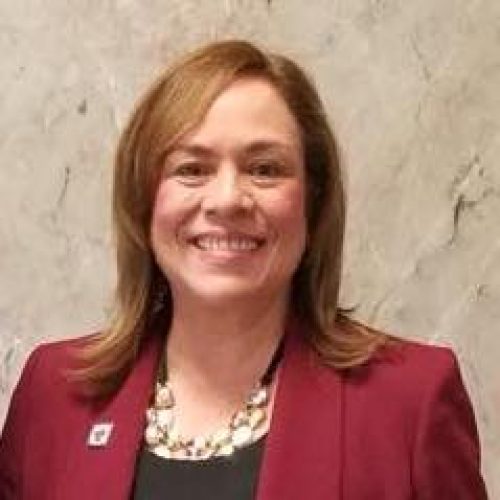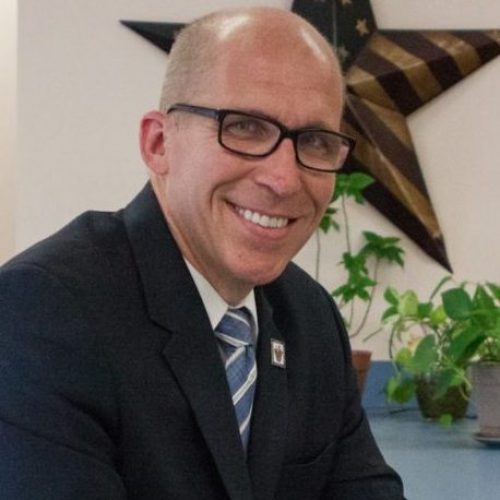 About our Endorsed Candidates
Ben Jealous shares the JUFJ Campaign Fund's priorities for social, economic, and racial justice for all Marylanders. Ben knows how to build bipartisan consensus among nonprofits, social justice groups, unions, and allies in the business community to increase the minimum wage, and to defend immigrant Marylanders from ICE.
Susie Turnbull's broad network and years of experience in the Maryland Democratic Party and the Jewish community will help her build support for programs Maryland needs, like affordable healthcare and public education for all. As a strong advocate for women's rights, she has helped to train other women in Maryland to run for and serve in public office.
On the Montgomery County Council, Marc Elrich was the lead sponsor and champion of the Fight for $15 bill that passed last year, making MoCo the first suburban district in the nation to commit to a $15 hourly minimum wage. As a former teacher, he will fight to make sure everyone has access to quality public education, and he is committed to enacting policies that will reduce racial inequity in MoCo.
Gabe Albornoz knows how to make government work for the people who need the most help, as evidenced by his outstanding leadership at the Department of Recreation. His depth of knowledge means he is ready to lead from day one, and he is committed to ensuring County government serves all members of our community.
Hans Riemer is a proven incumbent leader who has stood with the JUFJ Campaign Fund. As current Council President, he is supporting our immigrant neighbors and strategically expanding access to quality Early Childhood Education. There is much more we can do with Councilmember Riemer in his next four years.
Nancy Navarro is an experienced, effective incumbent leader from District 4 who continues to lead on issues that are important to the JUFJ Campaign Fund. Most recently, she is advancing a policy that will require the County Council to consider racial, economic, and gender equity in future budget and policy decision making.
During his time on the County Council, incumbent Tom Hucker (District 5) has stood with the JUFJ Campaign Fund for Earned Sick Leave and a strong $15 Minimum Wage. He is committed to bringing together broad-based coalitions to work with the County Council to find real solutions for our local challenges.
Click below to see the questions we asked candidates in order to consider endorsing them.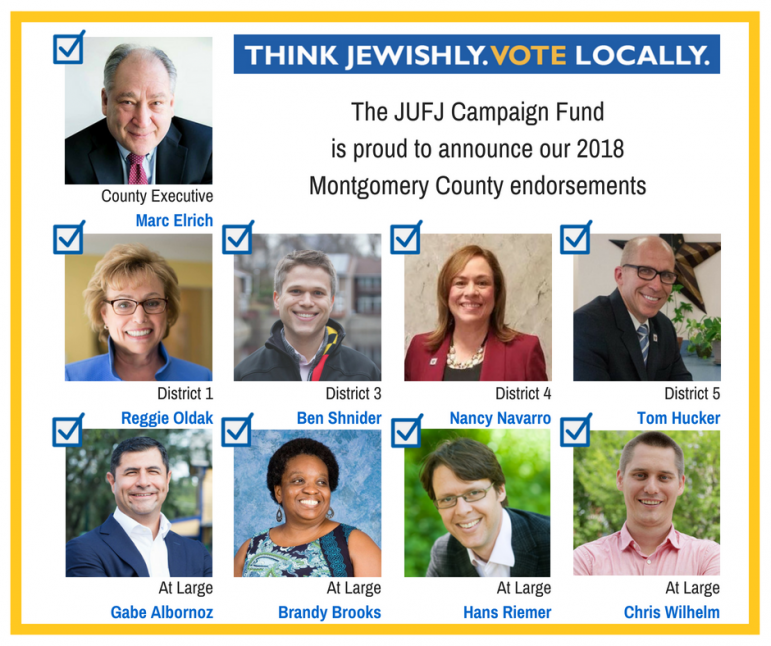 The JUFJ Campaign Fund is not endorsing candidates in the other races on the Montgomery County primary ballot. To compare some of our partner organizations' endorsements in races for Governor and Lieutenant Governor, Congress, the Maryland General Assembly, and the Montgomery County Board of Education, click below.
Montgomery County Events
There are no upcoming events.
2022 Montgomery County Endorsement Team
Thank you to all the Campaign Fund Board Members, Montgomery County volunteers, and staff who contributed to the endorsement process, giving generously of their time and insights. Thank you also to our many partners who consulted with us throughout the process.
Debbie Amster
Robert Barkin
Linda Bergofsky
Riley Blaugrund
Karen Caplan
Nikki Cole
Michael English
David S. Fishback
Joseph Gelula
Rafi Glazer
Sherry Glazer
Jesse Glickstein
Melissa Goemann
Mara Greengrass
Lisa Hack
Bill Halpern
Steven Harvey
Brigid Howe
Deedee Jacobsohn
Stephanie Joseph
Jerry Kickenson
Anita Lampel
Robert Landau
Phyllis Lerner
Anna Levy
Laura Loeb
Michelle Mazurek
Jeff Reiser
Heidi Rhodes
Jeff Rubin
Amy Sanders
Jo Shifrin
Devorah Stavisky
Carol Stern
Bruce Turnbull
Laura Wallace
Naomi Weiss
Shelley Winkler
Mark Wolff
Eli Wykell
Fran Zamore
This message has been authorized and paid for by the JUFJ Campaign Fund, PO Box 41485, Washington, DC 20018. Seth Johnson, President. This message has not been authorized or approved by any candidate.