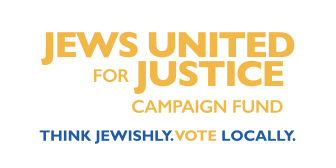 FOR IMMEDIATE RELEASE
March 15, 2021
CONTACT
Sarah Novick, DC Director
sarah@jufjcampaignfund.org, 202-408-1423×4

DC Council Scorecard reveals stark divides on budget, transparency
Some Councilmembers demonstrated leadership in a crisis; others chose corporations over people.
WASHINGTON, DC – As the DC Council and Mayor Bowser go through the annual DC budget process, the Jews United for Justice (JUFJ) Campaign Fund released their latest DC Council Scorecard, rating 20 critical votes taken during the Council's previous legislative session (2019-2020). Ten of the votes were related to the budget, and the wide range of scores on these votes clearly demonstrates that this moment calls for bold leadership to meet the crises we face as a city. At-Large Councilmembers Robert White, Jr. and Elissa Silverman scored the highest, at 95%.
"I'm honored to have received the highest score on the 2020 JUFJ Campaign Fund scorecard," said Councilmember Robert White, Jr. "This recognition is particularly meaningful because social, racial, and economic justice guide my work. Progress for justice and equality is a team effort. I'm proud to work alongside my Jewish brothers and sisters in this fight, and grateful for the work of the Jews United for Justice Campaign Fund, one of our strongest leaders."
"If we want to ensure everyone has safe and stable housing and affordable childcare, and cut wasteful tax giveaways, we need our Councilmembers to make bold choices," said Sarah Novick, DC Director of the JUFJ Campaign Fund. "As they consider the budget for the next fiscal year, Councilmembers should make sure that everyone pays their fair share, and raise new revenue for DC. In this wealthy city, there is certainly enough money to take care of people's basic human needs."
Critical votes on the Scorecard include funding essential COVID relief, repairing decaying public housing, promoting racial equity, protecting fair and open government, and defending workers' rights. The scores on these votes, as well as the budget votes, reveal stark divisions between those who are taking bold action to lead our city in the right direction and those who too often choose to defend a status quo that is leaving far too many people behind. The 2020 Scorecard is available at dccouncil.net, as are the 2018 and 2016 Scorecards. 
Jews United for Justice, the sister organization to the JUFJ Campaign Fund, is holding a series of educational events on the DC budget process this spring. To get involved in their work for a just recovery from the COVID-19 pandemic, and to attend a budget event, visit jufj.org/just-recovery-dc. 
—
The JUFJ Campaign Fund mobilizes the Jewish community of Washington, DC and Maryland to advance campaigns for social, racial, and economic justice and support progressive candidates for local office. Learn more at jufjcampaignfund.org.